Tanks in WW1: Armoured warefare
The use of tanks in the British forces began in 1915 with the Royal Navy project to produce 'Land Ships'. Tracked vehicles based on existing agricultural designs which could be employed for military use.
The Tank Corps was formed
Championed by Winston Churchill, the project was eventually passed to the army and tank units became the Heavy Branch Machine Gun Corps, and in July 1917 the Tank Corps, formed under a Royal Warrant.
The British Army first used tanks on the Somme in the Battle of Flers-Courcelette on 15th September 1916 when more than 40 Mark I tanks attacked with limited success. These tanks were not properly armoured, just boilerplate, and even bullets striking the steel plate could result in the 'splash' of white hot fragments being scattered around the fighting compartment of the vehicle. With the engine exposed in the middle of the tank as the crew worked around, it was incredibly hot and uncomfortable inside them, and with the early models there was considerable carbon monoxide leakage, effectively gassing the crew members!
The development of tanks continued apace as the war progressed and by the time of the formation of the Tank Corps, the Mark IV was a much better tank and was used successfully at Cambrai in November 1917 when more than 400 of them attacked the German Hindenburg Line.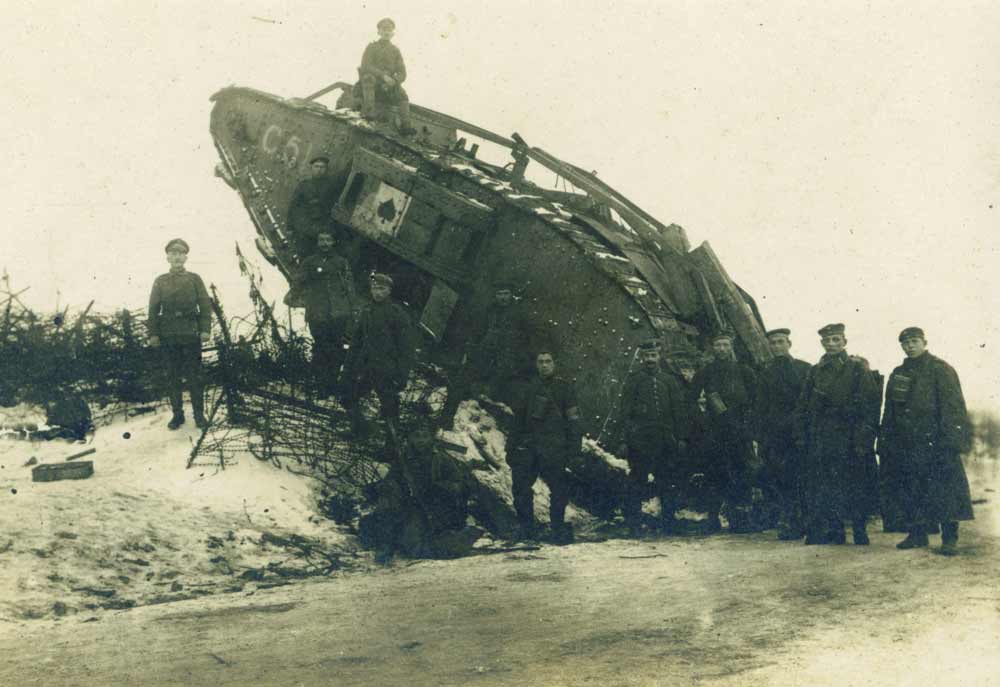 The Germans captured a number of Mark IV tanks at Cambrai and began the preparations for their own tank force which was used in the series of offensives they launched on the Western Front in the spring of 1918. They also developed their own tank, the A7V. This was crewed by 18 men, armed with a forward firing 57mm gun and six machine-guns. Only 20 were built and on the Somme in 1918 they fought British tanks for the first time in the first ever tank versus tank battle at Cachy.
By the end of the war in 1918 the British were using Mark V tanks, tanks that carried men (early armoured personnel carriers), tanks that carried supplies and tanks that carried field guns into battle.
Faster tanks called Whippet tanks were also in use, and it was clear that warfare had forever been changed by the use of these weapons.