The Silent Cities: The CWGC Story
---
5 days from £669pp
About the tour: The Silent Cities: The CWGC Story
---
Tour Introduction
The Commonwealth War Graves Commission cares for the graves and memorials of 1.7 million men and women who died in the two World Wars. Founded in 1917, its dedicated staff now work at 23,000 different places across more than 150 countries and territories. This special tour, developed in association with the CWGC, provides a unique insight into the story of this remarkable organisation.
4 nights hotel with continental breakfast & 1 lunch
Specialist Battlefield Guide
Convenient local joining points
Book Now
(Deposits from £150

pp

)
We offer flexible payment options
Once you have booked your battlefield tour either online, or by telephone (), you have the flexibility of how you pay off the remainder of your balance. You can -
Use our balance payment facility online to make and track your card payments. You can pay as much as you want up until your final due date or pay it all, the choice is yours.
Send payments via online banking.
Send payments via cheque.
Call us and make a card payment, either a small amount or as lump sum until your final due date.
Our contact and online banking payment details will be on your confirmation invoice to remind you of your choices.


For customers living outside of the UK, if you want to make a booking you will need to provide a UK postcode on our online booking system. If you are not able to provide a relevant UK postcode then you can enter the postcode for London Victoria Coach Station – SW1W 9TP. You should then be able to proceed to complete your booking.
If you do encounter a problem then you can speak to one of our friendly advisors who will be happy to help.
Please Note : After completing your booking, a member of our Customer Service team will be in touch to make sure everything is okay.
Either e-mail our Reservations Department or call on 01709 830 333 and they will check to see whether you can visit a particular cemetery on any of our Battlefield Tours, if we are not able to fit it into our itinerary then you could take some time out of the tour and do this independently by taxi or public transport.
Day 1
Local departure by coach, then to our hotel in Belgium or northern France, where we stay for four nights.
Day 2
We visit the 'Forgotten Front' today – the ground between some of the main battlefields of the later war period. Here we examine the early battles of 1914 and 1915, seeing the Le Touret Memorial to the Missing, and the Indian Cemetery at Zelobes. Lunchtime in Bethune and in the afternoon, we see the Loos Memorial and then visit the new extension to the Loos British Cemetery where dead recovered from new building work in Lens and the Canal du Nord will be buried. We also visit Quarry Cemetery for the story of Fergus Bowes-Lyon and the battles at the Hohenzollern Redoubt. We then return to our hotel.
Included meals: Breakfast
Day 3 - Arras
Today we begin in Northern France near Arras and visit the CWGC Experience where we have a specially arranged visit looking at the global work the Commission does, with talks and demonstrations. We then visit Vimy Ridge to look at the Canadian commemoration of their dead, seeing battlefield cemeteries on the Ridge, and the missing commemorated on the Vimy Memorial. Lunchtime in Arras and then we visit the Somme Battlefields looking at the early work of the Imperial war Graves Commission at Louvencourt, one of the 'experimental' cemeteries. We then look at New Zealand on the Somme and their missing at Caterpillar Valley, examining the story of their Unknown Warrior. After dinner we return to the battlefields for a special illumination of the Thiepval Memorial as it gets dark, which means a late finish and return to our hotel.
Included meals: Breakfast
Day 4 - Ypres
Today we are in Flanders and look at the early war British sector along the Messines Ridge, visiting the Ploegsteert Memorial and some of the battlefield cemeteries started in 1914, also examining the story of the Christmas Truce. After included lunch at Hooge, with time to see the new exhibition about the cemeteries, we get an update from the Commission about the work at the Menin Gate, and then examine the cemeteries in Ypres itself including Ypres Reservoir Cemetery, and Ypres Town Cemetery, where we look at the story of War Graves Gardeners seeing their special plot and talking to modern day gardeners about the work they do today. We stay in Ypres for free-time and attending the Last Post Ceremony before we return to our hotel.
Included meals: Breakfast, Lunch
Day 5
Return home.
Included meals: Breakfast
Specialist Battlefield Guides
All of Leger's battlefield tours are accompanied by specialist guides. Their individual in-depth knowledge of warfare will be informative, as well as enhance your overall experience, as they recreate a fascinating perception of the history and factual events of each battle. Discover the actual catalysts for war, the strategies employed and the final, inevitable outcomes, as well as experiencing the emotional human side of the front line.
Please note: On certain tours, you may get tour guides other that the ones listed below.
If you prefer, then you can join the tour at the hotel. To do this, we will require a copy of your passport for identification purposes and you must advise us at the time of booking.
No reduction will be given if you should choose to do this.
All hotel rooms benefit from private bathroom facilities.
Some hotels have tea and coffee making facilities. Please check the tour pages for more information or call our Customer Service Department on 01709 830333
Most hotels have a lift, please call our Customer Service Department on 01709 830333 for more information.
Some hotels have ground floor rooms. Please email for information on individual hotels or call our Customer Service Department on 01709 830333.
Your hotels will supply towels in your room.
We are unable to guarantee that the hotel will be able to meet your dietary requirements. We find that the majority of European countries do not generally cater for vegetarians and that the meal supplied may well be what everyone else is having minus the meat.
We will of course endeavour to arrange for a vegetarian meal at the hotel. We do however suggest that you advise us of your dietary requests at the time of booking and recommend that you speak to the receptionist on arrival with regard to your request.
You will stay for four nights at a minimum 3-star hotel in Belgium or northern France.
About the hotel
The 4-star Alize Hotel Mouscron is located in the heart of Mouscron. Despite not having their own restaurant, the hotel is ideally located only a short walk from the Mouscron Market Place, where a selection of bars and restaurants can be found. The hotel does have a bar, and all rooms are equipped with a T.V., tea and coffee making facilities, and a fridge.
Hotel Features
Bar
English Speaking Staff
Guest Lounge
Lift
WiFi Available
Room Features
Hairdryer
Tea and Coffee Making Facilities
Telephone
TV
About the hotel
Providing modern guest rooms, the Horizon Ath-Lessines is situated in the area of Ghislenghien, close to the towns of Ath and Lessines.
Hotel Features
Bar
English Speaking Staff
Guest Lounge
Lift
Restaurant
WiFi Available
Room Features
Bath and/or Shower
Hairdryer
Tea and Coffee Making Facilities
Telephone
TV
Departure times given for each region are approximate. Please check your travel documents to confirm the actual timings.
Front row seats can be reserved for £14pp (up to 6 days duration), £22pp (7 & 8 days duration) and £25pp (9 days duration and over) on all European tours. In addition to this seats on the second row can be reserved for £7pp (up to 6 days duration), £14pp (7 & 8 days duration) and £15pp (9 days duration and over). This offer is only available for bookings of two or four persons on the front row and is subject to availability. Guaranteed front/second row seats cannot be reserved on feeder journeys to/from the U.K. port. Children under 15 years cannot occupy a front row seat due to French Law. Central view seats are free.
Please note: On some coaches the legroom on front seats may be slightly less than that available on other seats due to the presence of a modesty board in front.
If your tour is cancelled for any reason and front/second row seats are not available on your new tour you will be refunded the supplement. No other compensation will be payable.
Alternatively, we can take seating requests on your booking. However, requests are not guaranteed. All seat numbers are confirmed on travel documents approximately 7-10 days prior to departure.
We guarantee that all passengers on the same booking will be seated together on the main tour coach. Seats on the transfer coaches to and from the U.K. port are not allocated.
Hot and cold drinks are served on the main tour coaches. Prices are approximately £1 or 1.25 Euro per drink. Prices will be confirmed by the driver. Drinks may also be served on the transfer coaches but this is not guaranteed.
Transfer vehicles are routed approximately 2-3 weeks before departure and will depend on where passengers are booked to travel from on any particular date as to which route is taken. If you require further detailed information regarding the route to the port you can contact our Customer Service Department on 01709 830333 two weeks before you are due to travel.
With regard to the route taken by the main tour coach, this is determined by the driver.
All main tour coaches have on-board toilets. Transfer vehicles to and from the U.K. port may not have on-board toilets. When non-British coaches are used on transfers and tours (air holidays only) an on-board toilet may not be available. However, comfort stops will be made during long journeys.
All coaches feature air-conditioning. Should the air-conditioning system break down for a period exceeding 12 hours, compensation will be awarded up to a maximum of £10 per fare-paying passenger per tour.
Depending on the location of your pickup point, you may be picked up by coach (not necessarily the on you are touring on), minibus, taxi, National Express or Megabus service. You may then be taken to another centralised pickup location or service station. We operate a passenger interchange at Stop 24 Services, where you will meet the tour coach you are holidaying on and then continue on with your outbound journey. Similarly, on the way home, you may also change transfer vehicles at another location, to take you to your final drop off point.
One medium sized suitcase per person, which should weigh no more than 20kg when full. We may refuse to carry larger or heavier cases. Hand luggage can be stored in the overhead racks aboard the coach.
It could be either - This will be confirmed in your travel documents.
All our coaches and transfer vehicles operate a 'no smoking on board policy'. The use of electronic cigarettes is strictly forbidden.
In the interest of fellow guests, do not take hot food or ice cream on board.
alcohol can only be taken on board our vehicles at the discretion of your driver.
When it comes to getting to the Battlefields, Leger Holidays make it easy, with a selection of travel options for you choose from.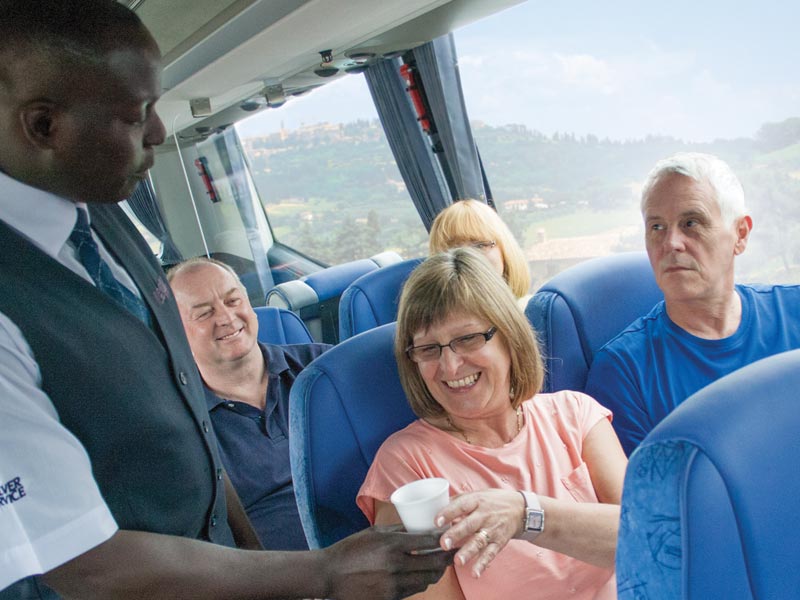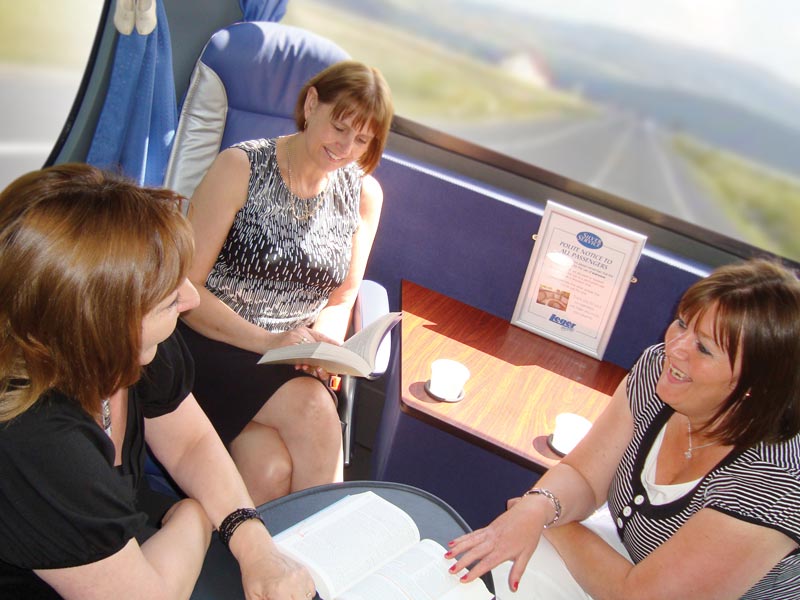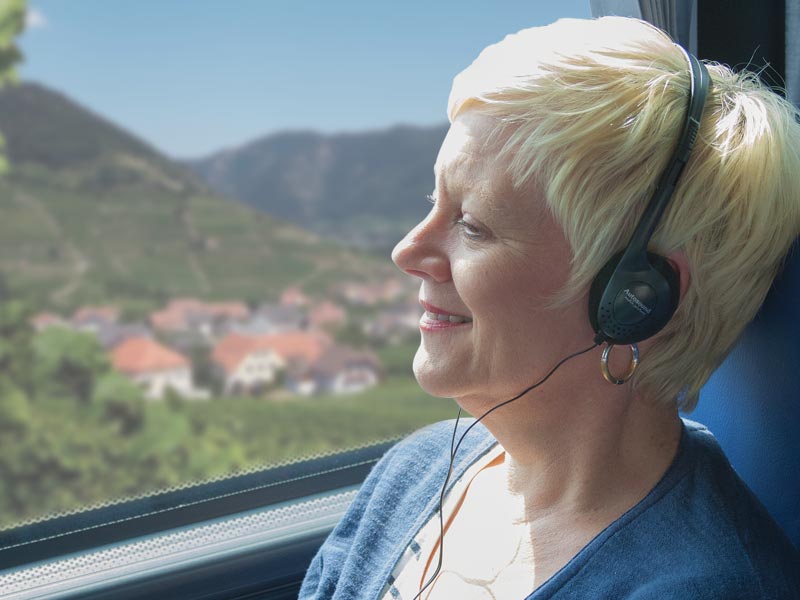 Sit back and relax in specially-designed, deluxe reclining seats, with leather headrests, footrests and more legroom than standard coaches.
Enjoy the perfect temperature onboard with climate control.
Relax and have a chat in the spacious rear lounge.
Servery on board offering a range of refreshments.
Porterage* at most hotels, so you really don't have to lift a finger.
Time flies with our onboard entertainment system.
With free personal headphones you can tune into the music channel, listen to the radio or watch DVDs.
Onboard toilet
Silver Service Seating Plan

Silver Service Virtual Tour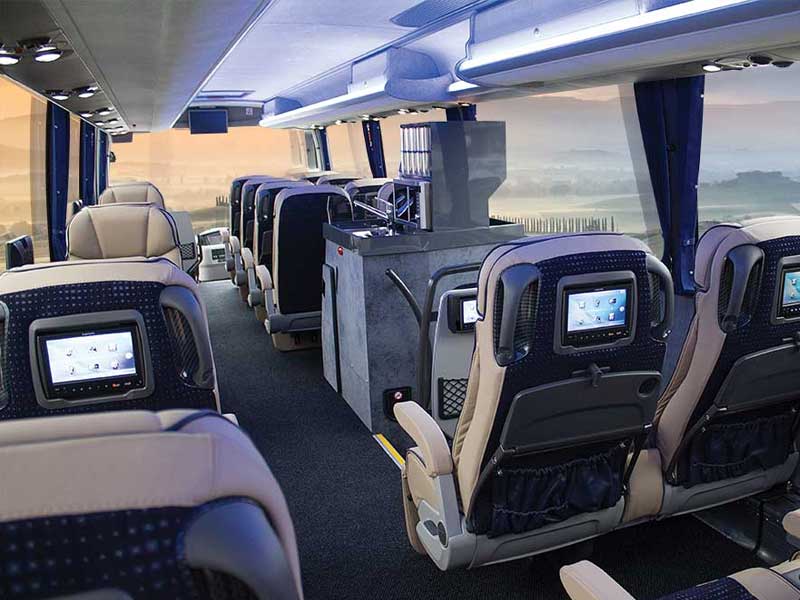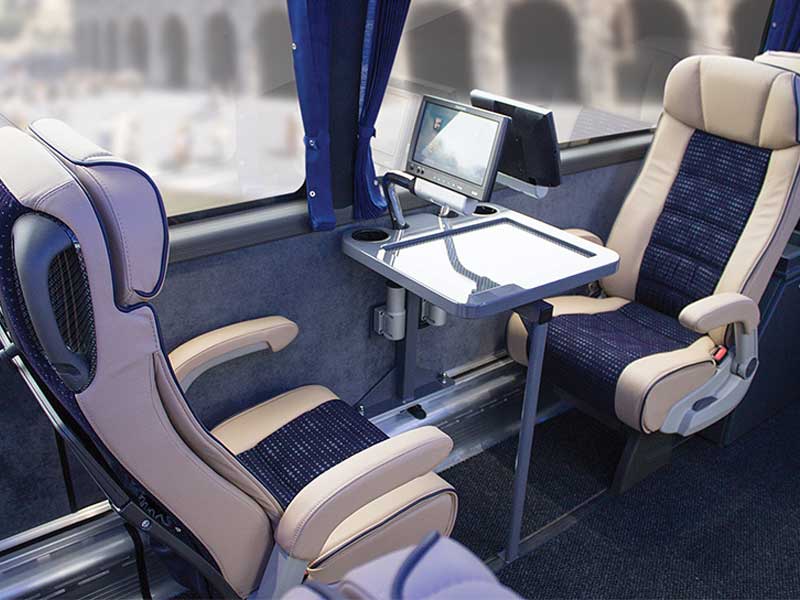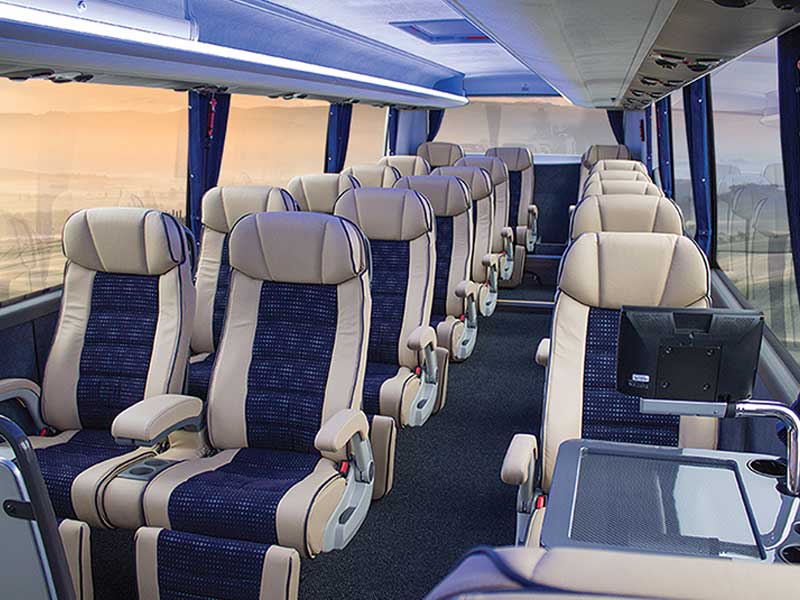 Deluxe armchair-style seats with leather exterior, central arm rests with cup holders and retractable calf rests give you a more comfortable journey.
Every seat has its own, fully interactive, touch screen T.V. offering a wide choice of entertainment so you can control what you want to watch and when.
There's also a selection of double and single seats, including four seats face-to-face with tables. And with a total of 7 single seats available, these are ideal for passengers travelling independently.
Plug sockets and USB points at each seat mean you can keep your devices fully charged throughout your journey.
Onboard toilet.

With an overnight stay or the option to meet us at the interchange, our travel extras allow you to create a travel experience to suit your needs...
Join your tour coach at the interchange.
On most tours if you'd prefer to join your tour coach at Stop 24 services, you can park your car in the car park which is accredited by the Park Mark safer parking scheme and is monitored 24 hours a day by CCTV. Payment for the parking is made on arrival using the self-service machines.
Excludes tours to Ireland and the U.K. and tours travelling via Brittany Ferries.
Book Now
OR
Call our friendly advisors on:
Sign up for FREE email offers