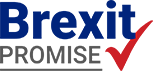 Our Brexit Promise – Your Holiday is in Safe Hands
With an air of uncertainty surrounding the UK's relationship with the European Union, and what might happen after the 29th March, it's understandable that you may have questions when it comes to booking your next holiday, especially to Europe. That's why we'd like to take this opportunity to reassure you that, when you book your holiday with Leger, you are completely protected, whatever the outcome.
Money Back Guarantee
All of our holidays are fully-bonded by ABTA, so you can rest assured that in the unlikely event that travel to and from the European Union is disrupted and we are unable to operate your holiday, you will be entitled to a FULL refund.
What happens if I book a holiday before Brexit?
Whilst there may be some changes post-Brexit, in any event, the UK will enter a transition period in which everything will stay the same until the end of 2020. You will not need a visa until at least 2021, flights will operate as normal throughout the EU, in the event of a no deal, the UK is intending to re-join the Interbus Agreement therefore coach travel should not be affected and, as per existing advice, appropriate travel insurance will protect you in the event of illness or accident. However, it is recommended that you ensure your passport is valid for at least 6 months after your planned date of arrival in the EU.
For further information, ABTA have provided comprehensive Brexit travel advice and practical tips for travelling to the EU which can be found, here.
Brexit Frequently Asked Questions
We understand that Brexit is a complicated issue, and you may have questions regarding travel to Europe, so we've compiled a list of frequently asked questions with useful information regarding your holiday plans.
It is actually a great time to book your holiday to Europe. With plenty of availability and low deposit offers available from just £50pp, you really can secure a great deal by booking now.
The Association of British Travel Agents (ABTA) have advised that, while there may be some changes post-Brexit, there is no reason to be concerned when booking a holiday to Europe. And you can rest assured that, as a member of ABTA, your holiday is completely protected when booking with Leger Holidays.
In any event, the UK will enter a transition period in which everything will stay the same until the end of 2020.
You shouldn't need a visa to travel to the EU after Brexit until December 2020.
The European Commission announced from 2021, UK citizens will need to pay a fee (of around 7 Euros) for this visa exemption. This is part of a new electronic travel authorisation system applying to all third-country visitors to the EU, similar to the US ESTA regime.
It is important to check the date that your passport expires. When travelling to the EU after the 29th March 2019, the UK Government recommends that you have 6 months left on your passport on the date you arrive in the EU.
You can use the Government's website tool to check the validity of your passport under these rules. https://www.passport.service.gov.uk/check-a-passport
The European Health Insurance Card allows any EU citizen to access state medical care when travelling in another EU country. In the event of a no-deal Brexit, these cards will no longer be valid.
Air conditioning
Drinks machines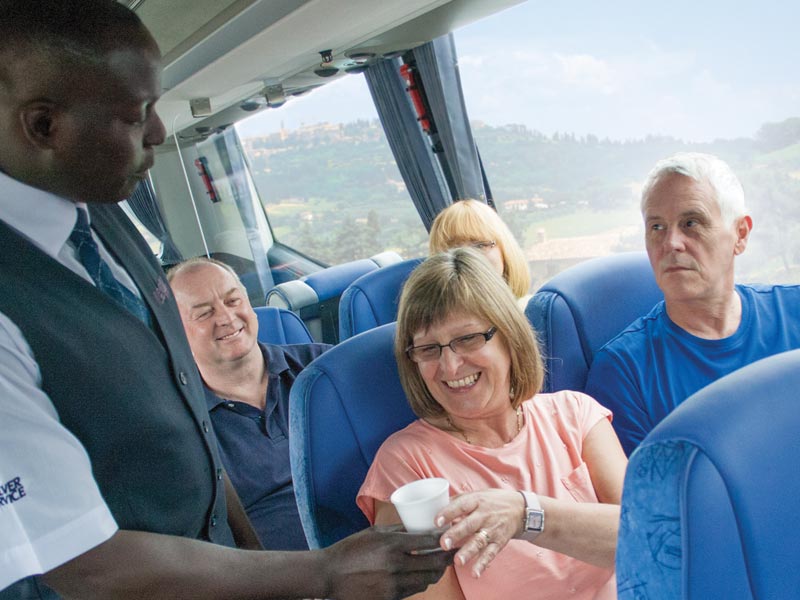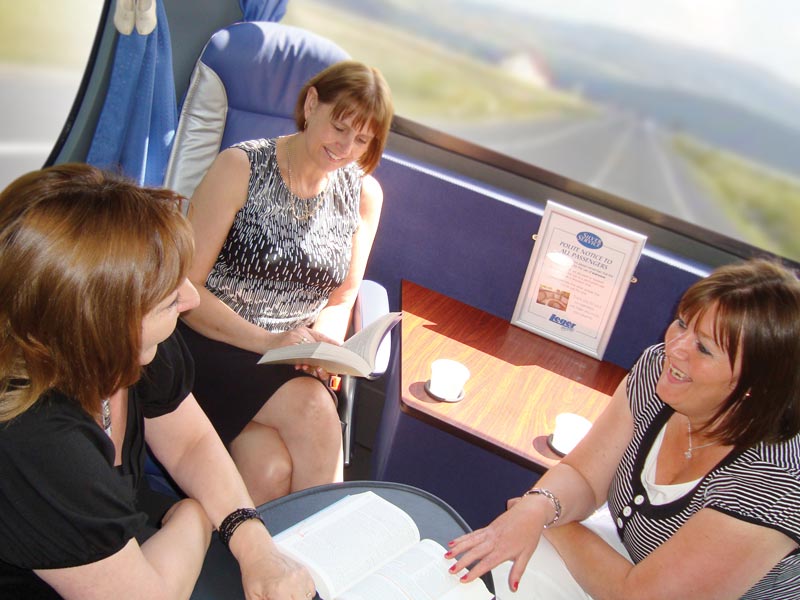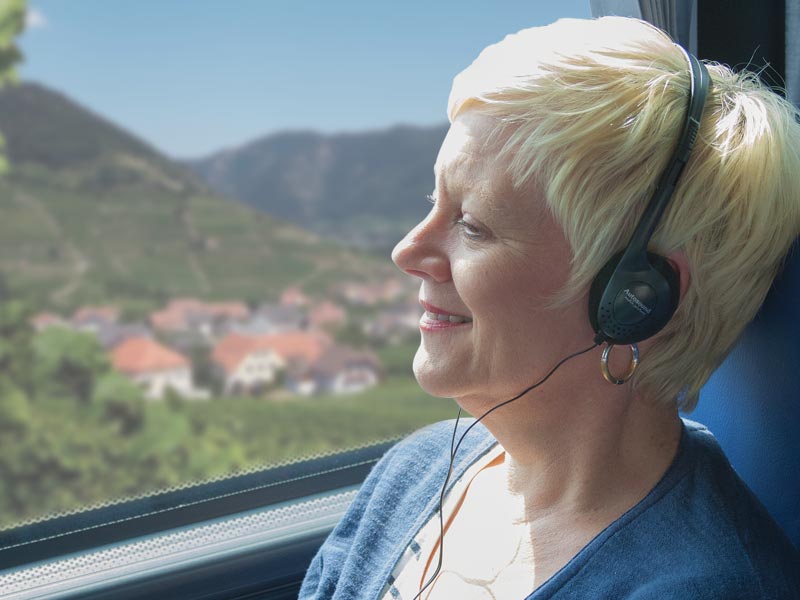 Sit back and relax in specially-designed, deluxe reclining seats, with leather headrests, footrests and more legroom than standard coaches.
Enjoy the perfect temperature onboard with climate control.
Relax and have a chat in the spacious rear lounge.
Servery on board offering a range of refreshments.
Porterage* at most hotels, so you really don't have to lift a finger.
Time flies with our onboard entertainment system.
With free personal headphones you can tune into the music channel, listen to the radio or watch DVDs.
Onboard toilet
Silver Service Seating Plan

Silver Service Virtual Tour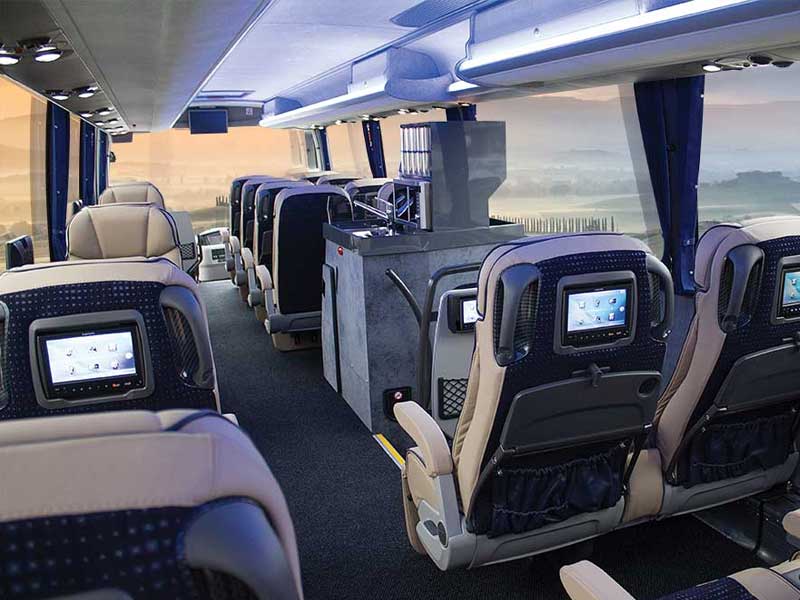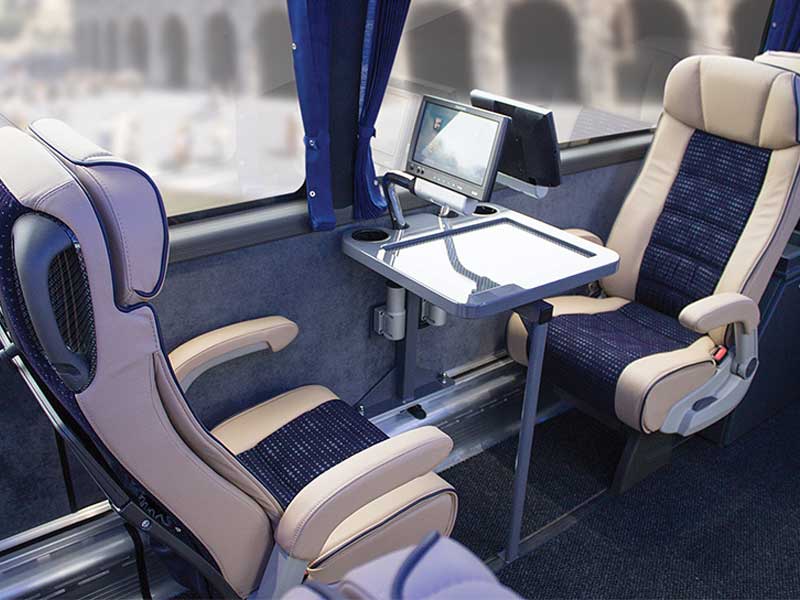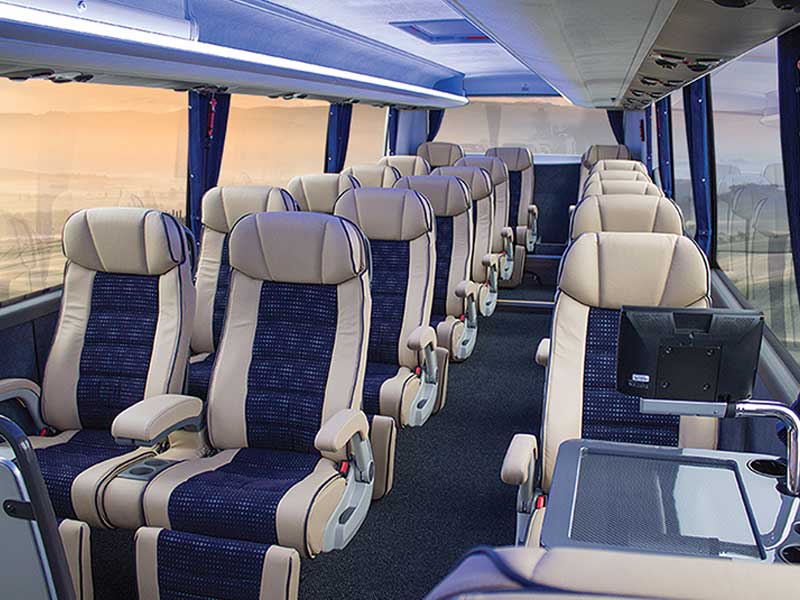 Deluxe armchair-style seats with leather exterior, central arm rests with cup holders and retractable calf rests give you a more comfortable journey.
Every seat has its own, fully interactive, touch screen T.V. offering a wide choice of entertainment so you can control what you want to watch and when.
There's also a selection of double and single seats, including four seats face-to-face with tables. And with a total of 7 single seats available, these are ideal for passengers travelling independently.
Plug sockets and USB points at each seat mean you can keep your devices fully charged throughout your journey.
Onboard toilet.

Take a look at our tours